I'll get to it... I swear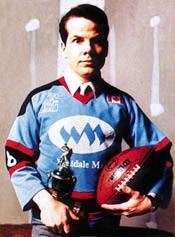 Bruce Ian McCulloch was born on May 12, 1961, in Edmonton, Alberta Canada. He is married to Tracy Ryan (they hooked up in 2003, and had a child at the end of last year [2004]). Bruce was an only child, it is said that he was a moody kid (oh, I could see that). Bruce went to Mount Royal College, he was planning on majoring in journalism and public relations. So, this planning part, he quit and joined the comedy troup with Mark McKinney (they actually had a fight the first time they met). The theatersport team (comedy troup) they made was called The Audience. They (being Mark and Bruce) moved to Toronto and after meeting, and acting on the same stage they joined up with David Foley and Kevin McDonald's Kids in the Hall.
Trivia
• Bruce is left-handed.
• Bruce is the shortest member of the troupe, but he's comfortable with his C-height.
• Bruce was nominated for the Cable Ace Best Actor in a Comedy for KITH in 1990, the Best Original Screenplay at the Genie Awards in 2000 for Dog Park, and was nominated for two awards at the 2000 Canadian Comedy Awards again for Dog Park in the Original Writing for a Film and Film Direction Categories.
TV & Filmography
Actor - Film
• Dick (1999) .... Carl Bernstein
• Dog Park (1998) .... Jeff
• Kids in the Hall: Brain Candy (1996) .... Alice/Cisco/Cop/White trash man/Grivo/Cancer Boy
• Star Trek: The Wrath of Khan (1982) (uncredited) .... Cadet on Bridge
Actor - TV
• "Twitch City" (1998) .... Rex Reilly
• "Kids in the Hall, The" (1989)
• Anne of Avonlea (1987) .... Fred Wright
Stage Work
• Slightly Bigger Cities which toured Western Canada in 1997 and Eastern Canada in 1999 (the first run was produced by One Yellow Rabbit and the second was a Crow's Theatre Production)
• Trapped on a Lawn Chair ... one-man show written and performed by Bruce (done for Tarragon Theatre)
• Jazz Stenographer ... same as above (done for Tarragon Theatre)
• Two Headed Roommate ... same as above (done for Tarragon/Citadel Theatres)
Director
• Superstar (1999)
• Dog Park (1998)
• Coleslaw Warehouse (1992)
• "Saturday Night Live"(1994-1995)
• "Kids in the Hall, The" (1989) (multiple episodes)
Writer
• Dog Park (1998)
• Kids in the Hall: Brain Candy (1996)
• "Kids in the Hall, The" (1989)
• "Saturday Night Live"(1985-1986, 1994-1995)
Discography
• Shame-Based Man (1995, Atlantic Records)